Gilli Biaha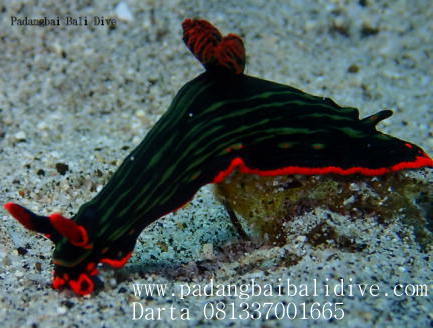 The Biaha dive island is also near by Gilli
Mimpang
and Gilli
Tepekong
. From
Padangbai
beach we are boating by a speed boat in around 30 minutes and by traditional boa it takes around 35-40 minutes to Biaha island.There are two dive site, Biaha wall and Biaha slope.
The dive starts close to the wall of the island. At a depth of 7 mtr. we'll find the entrance of a shark cave. The depth of this cave is around 15 mtr. Lobsters and white tip shark are always there. For the sharks is a place to rest. After we enjoyed our selfs in this cave, we leave and continue the dive at the fantastic and magnificent wall. With a total depth over 40 mtr., Mola-Mola and other big fish can appear and also frof fish and many nudibranches. At the slope, when the current is not to strong we'll have a fantastic dive. In case the current is to strong it is very difficult to hold there and we will drift away quickly. Safety at all times comes first. The slope is nice with beautiful hard and soft corals and big gorgonians. Blue marlin fish, Mola-Mola, barracuda, tuna fish, jack fish, napoleons, bump head parrots fish, white and black tip reef sharks, many nudibranches, dolphin and more.
The water temperature is the same as around Gilli Mimpang and Gilli Tepekong.
Are you happy with all the information you just have been reading? well in that case come to Padangbai Bali Dive and try it .............................. We will guide you !!
Other Dive Sites Area
1

Best equipment
Don't ask about our quality, all of our diving equipment is new
2

Instructors
Our instrucuor are real friendly and patience teaching Pro and since 1991 qualified for CMAS, PADI and SDI.
3

Exciting Places
Yearly many tourist are coming to Bali to get a glimpse of this mysterious underwater
4

100% Safety
We have all that you need and need to make your diving experience safe!